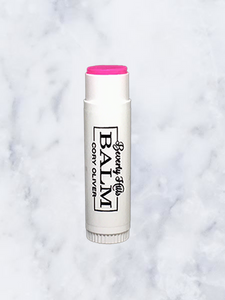 Pink Shimmer
Regular price $25.00 Sale
Balm your body in elegance.  Indulge in the extravagance of Beverly Hills Balm, a luxury beauty balm infused with organic oils to keep lips and skin silky soft and smooth.  
Our lavish balms contain nourishing elements that hydrate, moisturize and improve the overall appearance of your lips, face and body.

Beverly Hills Balm is created by renowned celebrity licensed beauty expert, actress and lifestyle host Cory Oliver.  
Each .50 ounce jumbo balm contains real and simple ingredients
MICA natural shine and color, contouring
COCONUT OIL naturally anti-bacterial and anti-fungal, excellent skin moisturizer, great scent
VITAMIN E moisturizes, reverses premature aging
CASTOR OIL hydrating emollient for dry skin detoxifies and cleanses skin
BEESWAX protects skin against irritants, moisturizes skin, offers anti-inflammatory, anti-bacterial and anti-viral benefits
PEPPERMINT OIL pleasing scent, anti-microbial properties, boosts energy, improves mental focus
SUNFLOWER OIL improves heart health, boosts energy, strengthens the immune system, improves skin health and reduces inflammation
 
PINK SHIMMER This sheer shimmery pink BALM pulls double duty! It has the same hydrating and moisturizing ingredients as The Original BALM.
Just BALM it with a little dab of rosy glow on your lips and cheeks and your ready to go!
Very light peppermint scent.